Cape Cod is an arm-shaped cape left behind by the glaciers. It is full of kettle ponds and beautiful beaches. Yarmouthport is located on the north side of the Cape on Route 6A, in a historical district called the King's Highway.
Nearby to the conference site is Center Street, which runs north from Rt. 6A to the Bass Hole, an inlet off Cape Cod Bay. Extending over the salt marsh is a long boardwalk, where beautiful sunsets can be viewed.
The bay beaches have a tide which goes out several hundred meters, making lovely places to walk at low tide. Mayflower Beach and Chapin Beach are off of Route 6A in Dennis, about 15 minutes from the conference site. Chapin Beach is just across the water from the pier at the end of Center Street in Yarmouthport. These are favorite beaches of the conference chairman.
On the outer Cape you will find Nauset Beach in Orleans, and the Coast Guard and Light House beaches just to the north, which are beautiful Atlantic Ocean beaches. These beaches are about a thirty to forty-five minute drive from Yarmouthport.
Provincetown is an interesting place to visit, and has many attractions, including beautiful beaches, interesting shops, and an art museum. It is a year-round home of a number of artists. It is also famous for the concentration of alternative lifestyles. There are great whale-watching tours out of P'town, and if you are lucky, you can see many humpbacks and other whales on an outing (no guarantees). A whale-watching trip is planned for either Tuesday or Wednesday afternoon, depending on the weather forecast.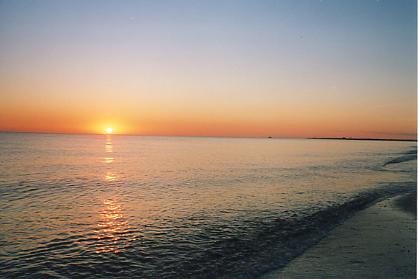 Route 6A is a very scenic road to make your way east, out to the tip of the Cape. It goes through a number of charming towns before ending in Orleans, where it runs into Route 6. There are many shops, galleries, antique shops, etc., along Route 6A.
Route 28, which runs along the south side of the cape, is an example of development gone wild. If you are looking for tourist shops, every description of a floating toy, cheap (at least looking) hotels, and miniature golf with a pirate setting, then Route 28 in Barnstable, Yarmouth, and Dennis is your place.
Hyannis is a part of Barnstable, and has a Kennedy Museum (Hyannisport is the location of the Kennedy compound), along with shops, restaurants, the ferry to Nantucket and Martha's Vineyard, and the Cape Cod Melody Tent. The ferries are about 25 minutes from the Colonial House Inn. Just drive south on Willow Street and follow the signs.
Weather: The average temperature on the Cape in June is high 71F / low 56F, so be prepared for cool evenings and pleasant days. Bring something warm to wear on the whale watch.
Two websites which have some useful information (but are trying to sell you something) are http://www.sunsol.com/ccvd and http://www.virtualcapecod.com/Default.asp.